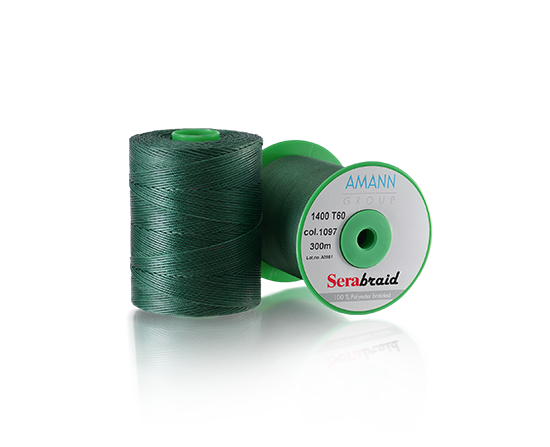 Serabraid
Polyester continuous filament, braided
the braided thread for individual decorative effects
for closing and topstitch seams
decorative, impressive, effective
waxed version available for hand sewing
| | | | | | | |
| --- | --- | --- | --- | --- | --- | --- |
| Ticket no. | Finish | Tex no. | Make-up | Number of colours | Needle size (in Nm) | Needle size (in No.) |
| 800 T60 | T60 | 380 | 700 m SSP | 30 | 200 | 25 |
| 800 T90 | T90 | 450 | 700 m XW | 30 | - | - |
| 1000 T60 | T60 | 500 | 500 m SSP | 48 | 260 | 28 |
| 1000 T90 | T90 | 600 | 500 m XW | 48 | - | - |
| 1200 T60 | T60 | 750 | 500 m SSP | 48 | 300 | 29 |
| 1200 T90 | T90 | 890 | 500 m XW | 48 | - | - |
| 1400 T60 | T60 | 1.030 | 300 m SSP | 30 | - | - |
| 1400 T90 | T90 | 1.200 | 300 m XW | 30 | - | - |
Eco-friendly and water-repellent: the Serabraid range is complemented by WRe, AMANN's new water- repellent, PFC-free finish. Available on request.
T60 = standard ; T90 = waxed for hand sewing
Main application:
Serabraid is a sewing thread made from braided polyester continuous filament. Braiding yarns refers to the process where the yarns are braided on a horizontal level. With 12 respectively 16 clappers, 6 respectively 8 rotate in the clockwise direction around a common axis, and 6 respectively 8 rotate against the clockwise direction. The clappers follow a wavy pattern since they have to go round each other. The braided yarn created in this process is wound on a so-called tambour. As the yarn has a hollow, tubular form with no twist, it has to be wound by a rolling method. The overhead feed method usually used for standard sewing threads would rotate the braided yarn and therefore results in a poor seam appearance. This is why the braided yarn is unwound over the whole process chain up to the sewing machine.
Impressive & effective - Serabraid is the impressive and effective braided thread for individual decorative effects. The braided sewing yarn is suitable for closing and topstitch seams. Further, the Serabraid sewing yarn is also available as a waxed version for hand sewing.
Eco-friendly & water-repellent: the Serabraid range is complemented by WRe, AMANN's new water-repellent, PFC-free finish, which is available on request. Besides, Serabraid is certified according to 96.0.8810 STANDARD 100 by OEKO-TEX®.
Serabraid, the braided yarn is commonly used as sewing thread for shoes, bags and suitcases. In addition, it can be used in the automotive sector as well as for home interior.