Certified all around the world
For a safe and sustainable future
Constantly ensuring our high quality standards is an important part of the AMANN philosophy.
At the same time, we are committed to and motivated by our customers' expectations for performance, reliability, technical expertise
as well as the quality and environmental compatibility of our products.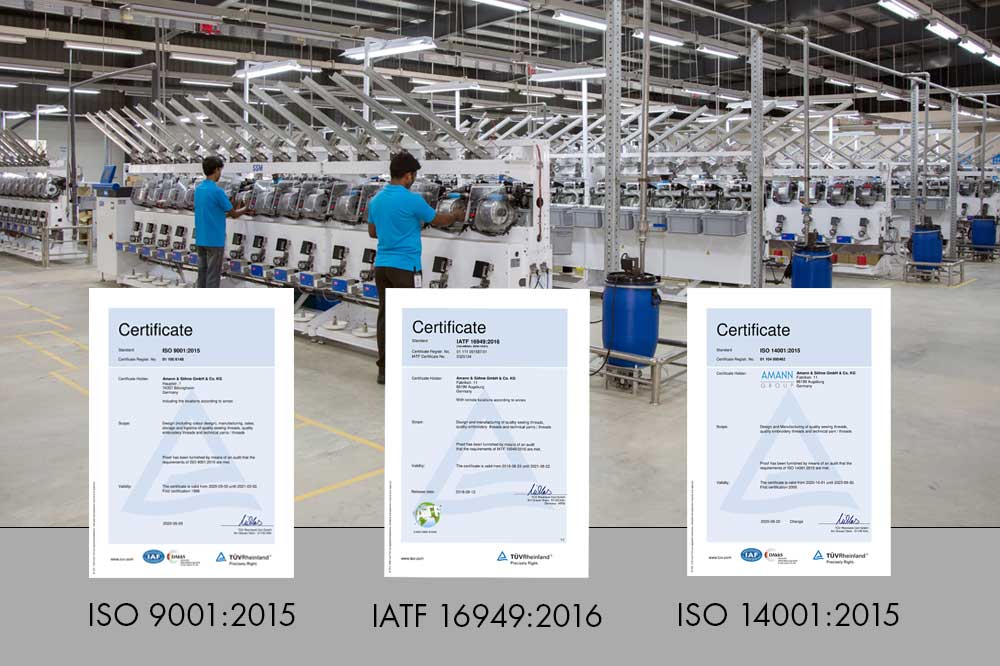 Certified quality and environmental management
Various certifications prove that quality management, process safety, environmental protection and sustainability are the compass points of our everyday work – from the fitting out of our locations to every single step in production.
Handling natural resources carefully and respectfully is a matter of course in our day-to-day business. We ensure that everything we do at all our locations is sustainable in order to reduce the quantities of energy and water we consume as well as the emissions and waste we produce. Resource and environmentally friendly production on the one hand and our own high environmental standards on the other reduce the burden on people and the environment to a minimum.
We have our compliance with quality, safety and environmental protection requirements certified through strict ISO certifications.
You can find all our certificates here.
Certified productions sites and products
We believe in taking responsibility. That's why we cooperate closely with our suppliers to put all necessary safety measures in place and to guarantee the safety of our chemicals according to the EU regulation REACH. STANDARD 100 by OEKO-TEX® identifies the environmental compatibility of all AMANN products. With the Pro-Label certificate of the Hohenstein Laboratories, AMANN is also the first manufacturer of sewing and embroidery threads to guarantee the industrial washing resistance of a large number of its products.
The products from our LIFECYCLE product range are Cradle to Cradle Certified® Gold, either for the technical or the biological cycle. The products of our RECYCLED product line are available as GRS certified (Global Recycled Standard) and made from 100% transparent PET bottles.
You can find all our certificates here.