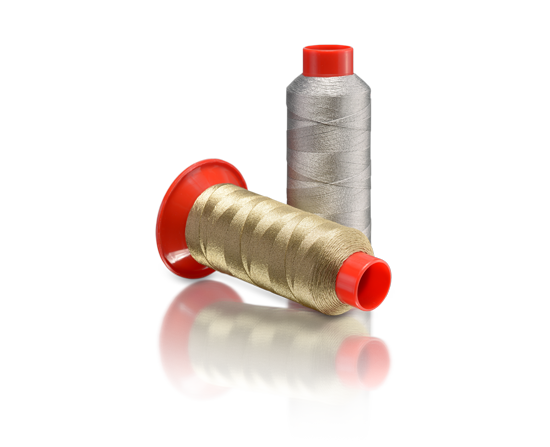 Meta
Polyester/polyester wrapped yarn
the effect thread for creative top stitching
for metallic accents on fashion and leather
decorative, impressive, effective
| | | | | | |
| --- | --- | --- | --- | --- | --- |
| Ticket no. | Tex no. | Make-up | Number of colours | Needle size (in Nm) | Needle size (in No.) |
| 10 | 260 | 300 m FS | 3 | 180 - 220 | 24-26 |
| 30 | 105 | 700 m FS | 3 | 110-130 | 18-21 |
Available colour no.: 0496 = gold; 0511 = silver; 1145 = bronze
Main application:
Ladieswear, menswear
Denim
Leatherwear
Meta is a metallised polyester/polyester wrapped yarn. This is the classic construction type for metallic embroidery threads and sewing threads. A continuous filament core (polyester, polyamide) is wrapped with a band of metallic foil in order to create the characteristic shine.
Metallic sheen - Meta is the metallised effect thread for creative seams. It creates a decorative, metallic accent on leather and denim as well as on ladieswear and fashionable menswear.
Meta is certified according to STANDARD 100 by OEKO-TEX®, 96.0.8810.
Alongside ladieswear and menswear, Meta is also used for denim and leatherwear. Besides, it is also utilised in the sector of shoes & accessories.