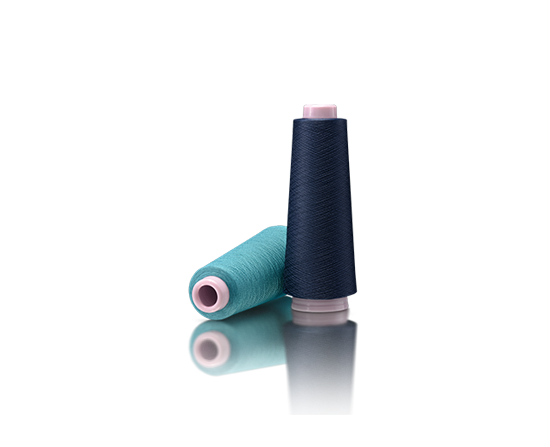 Sabasoft
Polyester continuous microfilament, texturised
soft. softer. Sabasoft
the soft sewing thread for lingerie, activewear, fitnesswear and bikewear
combines productivity and softness for the first time
usable as needle and looper thread
super fine, extra soft microfilament
resistant against yellowing and abrasion
| | | | | | |
| --- | --- | --- | --- | --- | --- |
| Ticket no. | Tex no. | Make-up | Number of colours | Needle size (in Nm) | Needle size (in No.) |
| 120 | 18 | 5000 m Co | 240 | 70-80 | 10-12 |
| 120 | 18 | 10000 m Co | on request | 70-80 | 10-12 |
| 120 | 18 | 30000 m Co | on request | 70-80 | 10-12 |
Main application:
Sportswear & outdoor
Underwear & lingerie
Sabasoft is a sewing thread that is made from texturised polyester continuous microfilament. Due to the multitude of fine filaments, the sewing thread is extremely soft and smooth, and the seams are barely noticeable. Sabasoft is certified according to STANDARD 100 by OEKO-TEX®, 93.0.4233.
Soft. Softer. Sabasoft! The ultra-soft sewing thread combines productivity and softness in an innovative manner. Furthermore, this soft sewing yarn is usable as needle and looper thread. Sabasoft is resistant against yellowing and abrasion, and the indispensable product, when seams are supposed to be as soft as possible.
Sabasoft is the special sewing thread for soft cover chain stitch seams. When compared to traditional continuous filaments, the microfilaments in Sabasoft have a far smaller diameter, thus, the sewing thread is extremely soft and smooth. Sabasoft is a high-performing sewing thread and can be sewn with sewing speeds of up to 5,000 stitches per minute, depending on the machine type.
Based on its extraordinarily soft characteristics, Sabasoft is used in the apparel sector as sewing thread for sportswear & outdoor, and as sewing thread for underwear & lingerie.