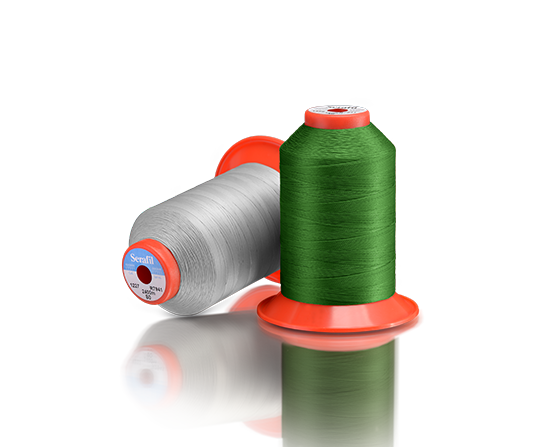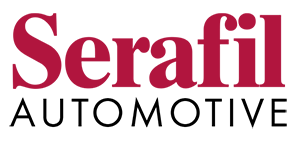 Serafil Automotive
Polyester continuous filament
the outstanding product for interior design concepts
for closing and decorative seams
excellent colour fastness and UV resistance
high seam strength
best sewing performance with perfect stitch formation
suitable for coarse decorative embroidery
| | | | | | | |
| --- | --- | --- | --- | --- | --- | --- |
| Ticket no. | Embroidery thread | Tex no. | Make-up | Number of colours | Needle size (in Nm) | Needle size (in No.) |
| 8 | - | 350 | 850 m FS | on request | 200-260 | 25-28 |
| 8 | - | 350 | 1700 m FS | on request | 200-260 | 25-28 |
| 8 | - | 350 | null kg FS | on request | 200-260 | 25-28 |
| 10 | - | 270 | 1000 m FS | on request | 180-220 | 24-26 |
| 10 | - | 270 | 300 m FS | on request | 180-220 | 24-26 |
| 15 | - | 210 | 1500 m FS | on request | 150-180 | 23-24 |
| 15 | - | 210 | 450 m FS | on request | 150-180 | 23-24 |
| 15 | - | 210 | 450 m FS | on request | 150-180 | 23-24 |
| 20 | - | 135 | 2500 m FS | on request | 120-140 | 19-22 |
| 20 | - | 135 | 600 m FS | on request | 120-140 | 19-22 |
| 20 | - | 135 | 4600 m FS | on request | 120-140 | 19-22 |
| 20 T90 | - | 135 | 1500 m XW | on request | - | - |
| 20 | - | 135 | 600 m FS | on request | 120-140 | 19-22 |
| 25 | - | 90 | 3000 m FS | on request | 110-130 | 18-21 |
| 30 | - | 90 | 900 m FS | on request | 100-130 | 16-21 |
| 30 | - | 90 | 4000 m FS | on request | 100-130 | 16-21 |
| 40 | 15 | 70 | 1200 m FS | on request | 90-120 | 14-19 |
| 40 | 15 | 70 | 5000 m FS | on request | 90-120 | 14-19 |
| 60 | 25 | 45 | 1800 m FS | on request | 80-110 | 12-18 |
| 60 | 25 | 45 | 5000 m FS | on request | 80-110 | 12-18 |
| 80 | 35 | 30 | 2400 m FS | on request | 70-110 | 10-18 |
| 80 | 35 | 30 | 10000 m FS | on request | 70-110 | 10-18 |
| 120 | 40 | 24 | 15000 m FS | on request | 70-80 | 10-12 |
| 120 | 40 | 24 | 4000 m FS | on request | 70-80 | 10-12 |
| 180 | 60 | 16 | 5000 m FS | on request | 65-70 | 9-10 |
Main application:
Seatbelts
Steering wheels
Trim & interior
Shading systems
Serafil Automotive is a sewing thread made from polyester continuous filament, which is specially manufactured for the special requirements of the automotive industry.
The automotive sewing yarn Serafil Automotive is the outstanding product for interior design concepts.
The automotive special sewing thread Serafil Automotive has a very high seam strength and convinces with excellent colour fastness to artificial light at high temperatures.
Serafil Automotive is used in the automotive sector as sewing yarn for trim & interior, for steering wheels and seat belts as well as shading systems.