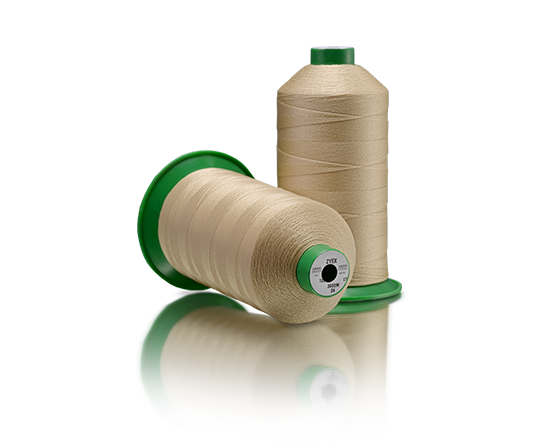 Zyex
PEEK (Polyether ether ketone) continuous filament
special sewing thread for the most extreme requirements in terms of chemical resistance
excellent resistance to bases and acids
extremely durable under mechanical wear
permanent temperature resistance up to approx. 250°C
melting point at approx. 330°C
| | | | | | |
| --- | --- | --- | --- | --- | --- |
| Ticket no. | Tex no. | Make-up | Number of colours | Needle size (in Nm) | Needle size (in No.) |
| 24 | 125 | 3000 m FS | 1 | 120-140 | 19-22 |
Main application:
Protective clothing
Filtration
Zyex® is a sewing thread made from PEEK (Polyether ether ketone) continuous filament.
Zyex® is a special sewing thread for the most extreme requirements in terms of chemical resistance. Zyex® is extremely durable under mechanical wear and features an excellent resistance to bases and acids. The permanent temperature resistance is up to approx. 250°C, the melting point is at approx. 330°C.
Polyether ether ketone fibres feature high temperature stability, good resistance to radiation and chemicals and high rigidity.
In the field of filtration, Zyex® is used as sewing thread for solid-liquid separation. In the field of protective clothing, Zyex® is used as sewing thread for chemical-protective clothing.