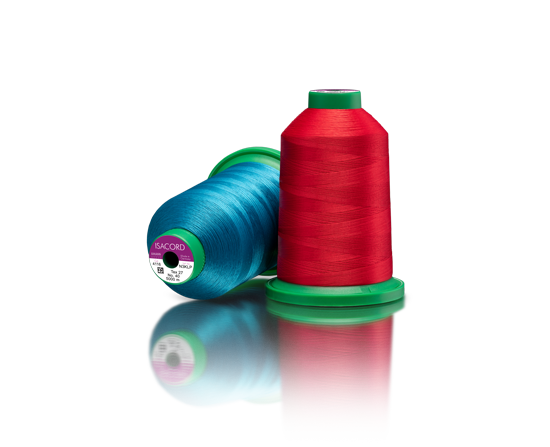 Isacord
Polyester continuous filament, trilobal
PRO-Label certification
the universal machine embroidery thread for all brilliant and fashionable embroidery
great in colour, great in function
abrasion-resistant, robust, perfect embroidery properties
excellent colour fastness
classic on work & corporate wear
extremely durable – also for jeans and automotive
| | | | | | |
| --- | --- | --- | --- | --- | --- |
| Ticket no. | Tex no. | Make-up | Number of colours | Needle size (in Nm) | Needle size (in No.) |
| 40 | 27 | 1000 m FS | 390 | 65-90 | 9-14 |
| 40 | 27 | 5000 m FS | 391 | 65-90 | 9-14 |
Main application:
Isacord is an embroidery thread made from trilobal polyester continuous filament. Continuous filaments made of trilobal polyester are a classic construction type for embroidery threads. The trilobal filament shape enlarges the light-reflecting material surface and ensures that the finished embroidery design has the desired gloss.
Isacord is the universal machine embroidery thread for all brilliant and fashionable embroidery. The embroidery yarn is great in colour and great in function and features excellent colour fastness. Moreover, AMANN's machine embroidery thread is abrasion-resistant, robust and shows perfect embroidery properties.
Hohenstein Laboratories confirm the industrial wash resistance of Isacord. Consequently, Isacord is certified with the PRO-care certification according to DIN EN ISO 30023. Besides, Isacord is certified according to STANDARD 100 by OEKO-TEX®, 93.0.4233.
Isacord is the classic industrial embroidery thread on workwear and corporate wear. Based on its extreme durability, it is also perfectly suited for jeans and automotive.