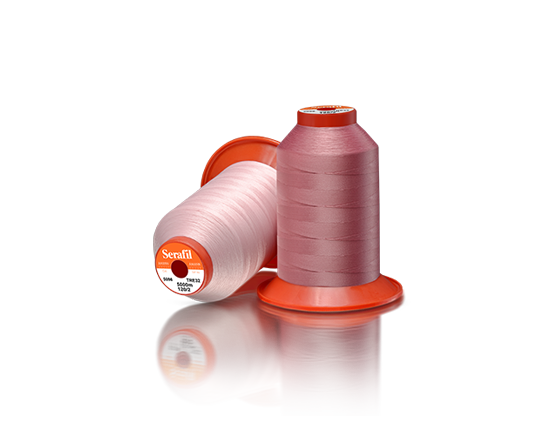 Serafil fine
Polyester continuous filament
PRO-Label certification
the ideal sewing and embroidery thread for all fine materials
delicate, silk-like, adaptive, semi-transparent
for high-quality overedging not showing through
for all felling and blindstitching work
ideal for processing down
for embroidering monograms and fine details
| | | | | | | |
| --- | --- | --- | --- | --- | --- | --- |
| Ticket no. | Embroidery thread | Tex no. | Make-up | Number of colours | Needle size (in Nm) | Needle size (in No.) |
| 120 | 40 | 24 | 4000 m FS | 100 | 70-80 | 10-12 |
| 120 | 40 | 24 | 15000 m FS | on request | 70-80 | 10-12 |
| 150 | 50 | 21 | 5000 m FS | 100 | 65-70 | 9-10 |
| 180 | 60 | 16 | 5000 m FS | 100 | 65-70 | 9-10 |
| 180 | 60 | 16 | 20000 m FS | on request | 65-70 | 9-10 |
| 300 | 75 | 10 | 5000 m FS | 100 | 60-65 | 8-9 |
| 300 | 75 | 10 | 20000 m FS | on request | 60-65 | 8-9 |
| 420 | 100 | 7 | 10000 m FS | 100 | 50-65 | 5-9 |
Main application:
Ladieswear, menswear
Sportswear & outdoor
Underwear & lingerie
Serafil fine is an extremely fine sewing and embroidery thread made from polyester continuous filament. The single yarns are made of endless fibres (filaments) for continuous filament threads. Partially, up to 200 single filaments make up a single yarn (continuous filament). Thanks to their construction, continuous filaments have a smooth, glossy surface and a consistent thread character. Furthermore, they display a very high breaking strength and abrasion resistance.
Fine. Finer. Serafil: Serafil fine is the ideal sewing and embroidery thread for all fine materials. It is delicate, silk-like, adaptive, semi-transparent, and a guarantor for high-quality overedging not showing through. This sewing and embroidery yarn is suitable for all felling and blindstitching works and has best features for processing down. Used as an embroidery thread, Serafil fine is suitable for embroidering monograms and fine details.
Hohenstein Laboratories confirm the industrial wash resistance of Serafil fine. Consequently, Serafil fine is certified with the PRO-care certification according to DIN EN ISO 30023. Moreover, Serafil fine is certified according to 93.0.4233, STANDARD 100 by OEKO-TEX®.
As sewing thread, Serafil fine is commonly used for menswear and ladieswear. Furthermore, Serafil fine is used as sewing thread for sportswear & outdoor, but also as sewing thread for underwear & lingerie. Based on its fine properties, Serafil fine is also often used as embroidery thread, for instance, if an embroidery should have fine and filigree features.