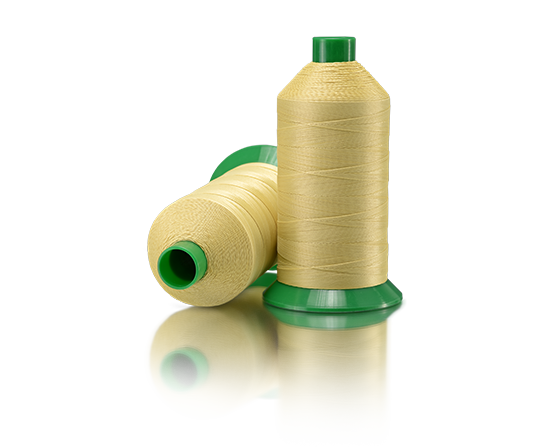 Kc-tech
Kevlar® DuPont™ para-aramide continuous filament, bonded
extremely high-performing para-aramide special sewing thread for technical textiles requiring cut and heat protection
self-extinguishing and non-melting
permanent temperature resistance up to approx. 170°C
decomposition temperature at approx. 425°C
burning behaviour tested according to DIN EN ISO 15025
| | | | | | |
| --- | --- | --- | --- | --- | --- |
| Ticket no. | Tex no. | Make-up | Number of colours | Needle size (in Nm) | Needle size (in No.) |
| 22 | 135 | 500 g FS | 1 | 130-150 | 21-23 |
Note: Due to the sensibility of para-aramide against UV-light we highly recommend the storage of the thread within the black plastic bags. A longer exposure to UV-light causes yellowing and reduction of tensile strength. Due to this fact we advise against using this product for exterior applications.
DuPont™ and Kevlar®/Nomex® are trademarks or registered trademarks of E.I. duPont de Nemours and Company.
The automatic thread cutter should be switched off as cutting devices can quickly become blunt.​
Main application:
Composites
Filtration
Protective clothing
Kc-tech is a sewing thread made from bonded Kevlar® DuPont™ para-aramide continuous filament.
Kc-tech is an extremely high-performing para-aramide special sewing thread for technical textiles requiring cut and heat protection. Kc-tech has a permanent temperature resistance up to approx. 170°C, the decomposition temperature is at approx. 425°C.
The burning behaviour of Kc-tech is tested in accordance with DIN EN ISO 15025.
Kc-tech is a special sewing thread for protective clothing, for example safety shoes, as well as for bullet-proof vests (e.g. police). However, Kc-tech is also used as sewing thread for filtration, as sewing thread for composites, or as sewing thread for airbags and tyres.