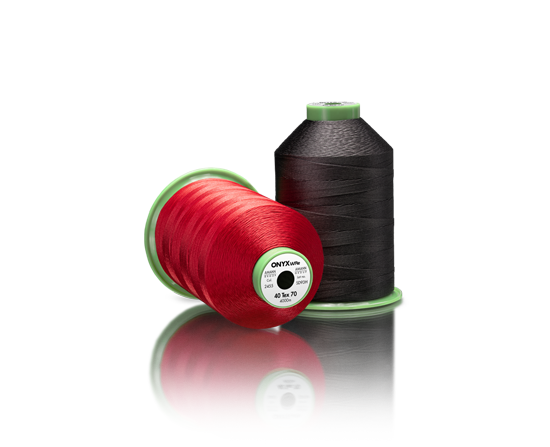 Onyx WRe
Polyamide 6.6 continuous filament, water-repellent, PFC-free
WRe = water-repellent and ecofriendly
free from harmful chemicals
the ultra-strong sewing thread for stressed seams
for water-repellent closing and topstitch seams
robust, abrasion-resistant, durable
excellent strength properties
| | | | | | |
| --- | --- | --- | --- | --- | --- |
| Ticket no. | Tex no. | Make-up | Number of colours | Needle size (in Nm) | Needle size (in No.) |
| 20 | 135 | 2000 m FS | on request | 140-160 | 22-23 |
| 30 | 105 | 2500 m FS | on request | 130-150 | 21-23 |
| 40 | 70 | 4000 m FS | on request | 110-130 | 18-21 |
| 60 | 45 | 6000 m FS | on request | 90-110 | 14-18 |
Colours can be darker with WRe finish.
You do not require a water-repellent finish? Here you can find our standard Onyx
Main application:
Onyx WRe is a water repellent, PFC-free sewing thread made from polyamide 6.0 continuous filament.
Onyx WRe does not contain any PFC, is free of harmful chemicals and therefore an environmentally friendly sewing thread. Onyx WRe is robust, abrasion-resistant and durable with excellent strength properties.
The water-repellent Onyx WRe is an ultra-strong sewing thread for stressed seams. This environmentally friendly sewing thread is used for water-repellent closing and topstitch seams, among other things.
Due to its excellent water-repellent properties as well as its durability, Onyx WRe is a perfectly suited sewing thread for shoes. Furthermore, the water-repellent yarn is also used in the Techtex sector.