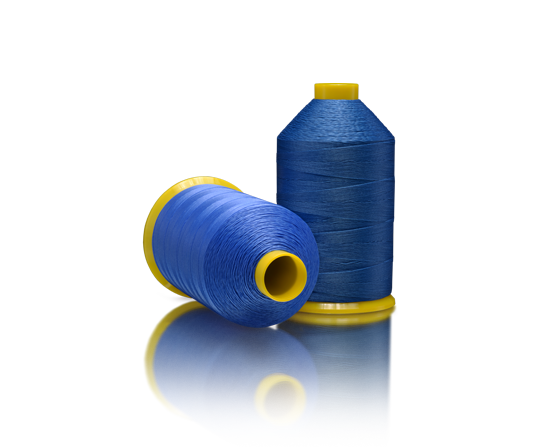 Strongbond
Polyamide 6.6 continuous filament, bonded
the robust, bonded sewing thread
for seams with maximum durability
best sewing performance, also for multidirectional sewing
| | | | | | |
| --- | --- | --- | --- | --- | --- |
| Ticket no. | Tex no. | Make-up | Number of colours | Needle size (in Nm) | Needle size (in No.) |
| 10 | 270 | 1500 m FS | 12 | 200-250 | 25-27 |
| 13 | 210 | 2000 m FS | 2 | 180-200 | 24-25 |
| 20 | 135 | 1500 m FS | 76 | 140-160 | 22-23 |
| 30 | 90 | 2500 m FS | 11 | 120-140 | 19-22 |
| 40 | 70 | 3500 m FS | 95 | 110-130 | 18-21 |
| 60 | 45 | 5000 m FS | 75 | 90-110 | 14-18 |
| 80 | 35 | 9000 m FS | 2 | 80-100 | 12-16 |
Main application:
Shoes
Bags
Suitcases
Belts and small leather goods
Strongbond is a sewing thread made from bonded polyamide 6.6 continuous filament. The bonding process (also referred to as "gluing") provides for a better cohesion of the thread's single yarn elements. The bonding substance gives the yarns a special superficial bonding, resulting in a better thread finish.
Strong, stronger, Strongbond! Strongbond is the robust bonded sewing thread by AMANN. This sewing yarn is especially suitable for heavy-duty seams. Strongbond guarantees best sewing performance, also for multidirectional sewing.
Bonded sewing threads are easily recognized. On the one hand, they feel stiffer than normal sewing threads due to their additional treatment (this is noticeable when the thread is drawn from the package). On the other hand, bonded threads are harder to untwist. The resistance is clearly noticeable, which is a consequence of the bonding effect.
In the field of shoes & accessories, Strongbond is mainly used for heavy-duty seams, for instance, as sewing thread for shoes, as sewing thread for bags, as sewing thread for suitcases, as well as sewing thread for belts and small leather goods. In addition, Strongbond is used in the automotive and techtex sector.