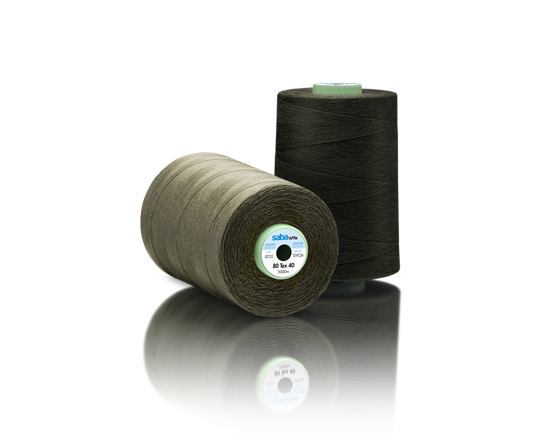 Saba WRe
Polyester/polyester core spun, water-repellent, PFC-free
WRe = water-repellent and ecofriendly
free from harmful chemicals
AMANN's allrounder
for water-repellent closing and topstitch seams
high-performing, outstanding sewing behaviour
ideal abrasion resistance and strength properties
textile appearance
for water-repellent matt embroidery
| | | | | | | |
| --- | --- | --- | --- | --- | --- | --- |
| Ticket no. | Embroidery thread | Tex no. | Make-up | Number of colours | Needle size (in Nm) | Needle size (in No.) |
| 25 | - | 120 | 5000 m Co | on request | 130-160 | 21-23 |
| 30 | - | 105 | 3000 m Co | on request | 110-130 | 18-21 |
| 35 | - | 80 | 5000 m Co | on request | 100-120 | 16-19 |
| 50 | 15 | 60 | 2500 m Co | on request | 90-110 | 14-18 |
| 50 | 15 | 60 | 5000 m Co | on request | 90-110 | 14-18 |
| 80 | 30 | 40 | 5000 m Co | on request | 90-100 | 14-16 |
| 100 | 35 | 30 | 5000 m Co | on request | 80-90 | 12-14 |
| 120 | 40 | 24 | 5000 m Co | on request | 70-80 | 10-12 |
| 150 | 60 | 21 | 5000 m Co | on request | 60-70 | 8-10 |
Colours can be darker with WRe finish.
You do not require a water-repellent finish? Here you can find our standard Saba
Main application:
Ladieswear, menswear
Sportswear & outdoor
Leatherwear
Workwear
Saba WRe is a water repellent, PFC-free polyester/polyester core spun thread and is used as sewing thread and as embroidery thread.
Saba WRe is an environmentally friendly sewing thread that does not contain any PFC at all. Saba WRe is a water-repellent sewing thread or a water-repellent embroidery thread that has a special water-repellent finish. It is completely free of harmful chemicals. Among other things, Saba WRe is used as a sewing thread for water-repellent closing and topstitch seams as well as embroidery thread for water-repellent, matt embroidery.
Saba WRe is the water-repellent all-rounder sewing thread from AMANN. The environmentally friendly sewing thread is high-performing with excellent sewing performance. It has an ideal abrasion resistance and strength properties as well as a textile appearance.
The new ecofriendly sewing thread with excellent water-repellent properties is mainly used in apparel: as sewing thread for menswear and womenswear, as water-repellent sewing thread for sportswear & outdoor, as well as for leatherwear and workwear. In the field of embroidery, Saba WRe is also used as water-repellent embroidery thread for water-repellent, matt embroidery.