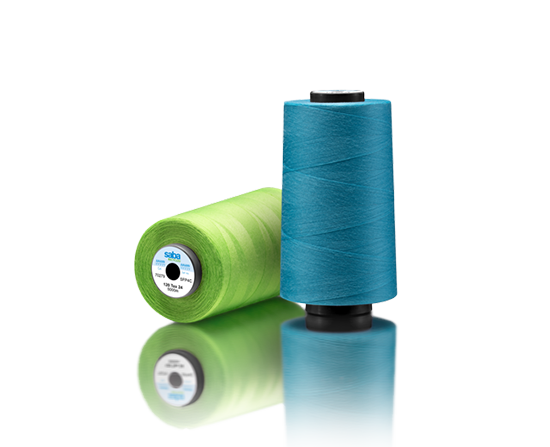 Saba Recycled
Polyester/polyester core spun, 100% recycled
AMANN's sustainable thread made from 100% recycled PET bottles
available as GRS certified
pure sustainability combined with outstanding sewing performance
ideal abrasion resistance and strength properties
textile appearance
the ideal choice for manufacturing sustainable products
| | | | | | | |
| --- | --- | --- | --- | --- | --- | --- |
| Ticket no. | Embroidery thread | Tex no. | Make-up | Number of colours | Needle size (in Nm) | Needle size (in No.) |
| 30 | - | 105 | 3000 m Co | 535 | 110-130 | 18-21 |
| 35 | - | 80 | 5000 m Co | 75 | 100-120 | 16-19 |
| 50 | - | 60 | 2500 m Co | 535 | 90-110 | 14-18 |
| 80 | - | 40 | 5000 m Co | 535 | 90-100 | 14-16 |
| 100 | - | 30 | 5000 m Co | 535 | 80-90 | 12-14 |
| 120 | - | 24 | 5000 m Co | 535 | 70-80 | 10-12 |
| 150 | - | 21 | 5000 m Co | 535 | 80-90 | 12-14 |
Main application:
Denim
Ladieswear, menswear
Leatherwear
Sportswear & outdoor
Underwear & lingerie
Workwear
The sustainable sewing thread - Saba Recycled is a 100% recycled polyester/polyester core spun.
Saba Recycled is AMANN's new, environmentally friendly sewing thread and made from 100% recycled PET bottles. Saba Recycled is available as GRS certified and offers pure sustainability with very good sewing performance
The recycled sewing thread Saba Recycled impresses with optimal abrasion resistance and strength properties as well as its textile appearance. Therefore, AMANN's new sustainable thread is the ideal choice for the production of sustainable products.
The recycled sewing thread Saba Recycled is mainly used in the apparel sector as sewing thread for menswear and womenswear, sportswear & outdoor, denim, lingerie & lingerie as well as for leatherwear and workwear.