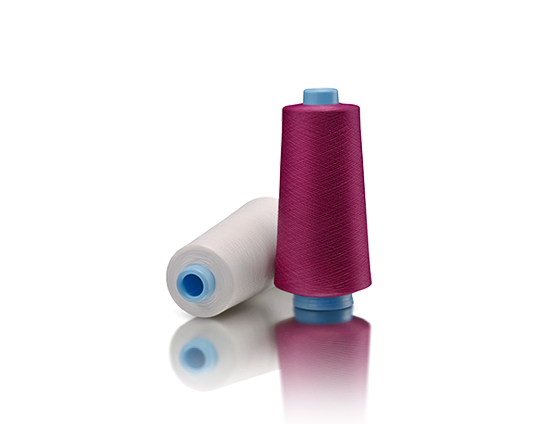 Sabatex
Polyester continuous filament, texturised
PRO-Label certification
the perfect bulk yarn
soft, voluminous, skin-friendly
for all serging and coverstitch seams
for optimal edge covering
Sabatex 60 is perfectly suited for chenille embroidery
| | | | | | | |
| --- | --- | --- | --- | --- | --- | --- |
| Ticket no. | Embroidery thread | Tex no. | Make-up | Number of colours | Needle size (in Nm) | Needle size (in No.) |
| 60 | - | 58 | 6000 m Co | on request | 100-120 | 16-19 |
| 100 | - | 35 | 5000 m Co | 171 | 90-110 | 14-18 |
| 100 | - | 35 | 10000 m FS | 171 | 90-110 | 14-18 |
| 120 | - | 18 | 10000 m Co | 535 | 80-90 | 12-14 |
| 120 | - | 18 | 30000 m Co | on request | 80-90 | 12-14 |
| 250 | - | 11 | 5000 m Co | 171 | 70-80 | 10-12 |
| 250 | - | 11 | 10000 m Co | 171 | 70-80 | 10-12 |
| 250 | - | 11 | 30000 m Co | on request | 70-80 | 10-12 |
Main application:
Ladieswear, menswear
Sportswear & outdoor
Underwear & lingerie
Workwear
Sabatex is a sewing thread made from texturised polyester continuous filament. The single yarns are made of endless fibres (filaments) for continuous filament threads. Partially, up to 200 single filaments make up a single yarn (continuous filament). Thanks to their construction, continuous filaments have a smooth, glossy surface and a consistent thread character. Furthermore, they display a very high breaking strength and abrasion resistance. The apparel industry generally utilises only the finer counts. The major field of application here are overlock seams for cut edges and blindstitch seams.
Soft, voluminous and skin-friendly: Sabatex is the perfect bulk yarn, extremely soft and perfectly suited for all serging and coverstitch seams. Moreover, Sabatex can be optimally used for edge covering.
The industrial wash resistance of Sabatex is guaranteed by Hohenstein Laboratories. Consequently, Sabatex has received the PRO-care certification according to DIN EN ISO 30023. In addition, Sabatex has received the STANDARD 100 by OEKO-TEX® according to 93.0.4233.
Sabatex is primarily used as sewing thread for all serging and coverstitch seams. Thus, Sabatex is used in the ladieswear & menswear sector, as well as in the sportswear & outdoor sector. Moreover, Sabatex is used as sewing thread for underwear & lingerie and workwear. Last but not least, Sabatex is also used for home interior textiles.