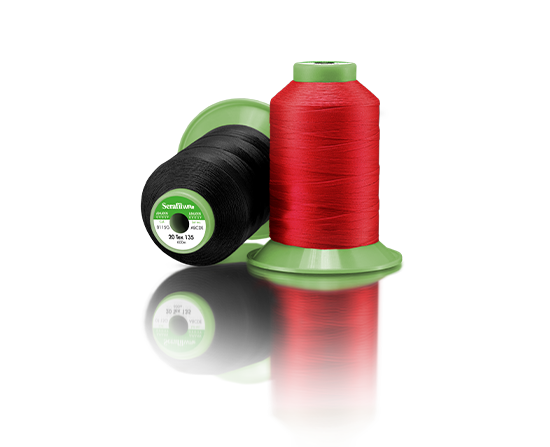 Serafil Automotive WRe
Polyester continuous filament
WRe = water-repellent and eco-friendly
free from harmful chemicals
for water-repellent closing and decorative seams
excellent colour fastness to artificial light at high temperatures
high seam strength
best sewing performance with perfect stitch formation
| | | | | | |
| --- | --- | --- | --- | --- | --- |
| Ticket no. | Tex no. | Make-up | Number of colours | Needle size (in Nm) | Needle size (in No.) |
| 10 | 270 | 1000 m FS | on request | 180-220 | 24-26 |
| 10 | 270 | 300 m FS | on request | 180-220 | 24-26 |
| 15 | 210 | 450 m FS | on request | 150-180 | 23-24 |
| 20 | 135 | 600 m FS | on request | 120-140 | 19-22 |
Main application:
The water-repellent automotive sewing thread Serafil Automotive WRe is made of polyester continuous filament.
The water-repellent sewing thread for automotive Serafil Automotive WRe is free of harmful chemicals and contains no PFCs.
The automotive sewing yarn Serafil Automotive WRe is ideal for water-repellent closing and decorative seams and achieves excellent colour fastness to artificial light at high temperatures. The thread has high seam strength and creates the best sewing performance with perfect stitch formation.
Serafil Automotive WRe sewing thread is used for automotive applications that require water-repellent properties, e.g. as a water-repellent sewing thread for shading systems.