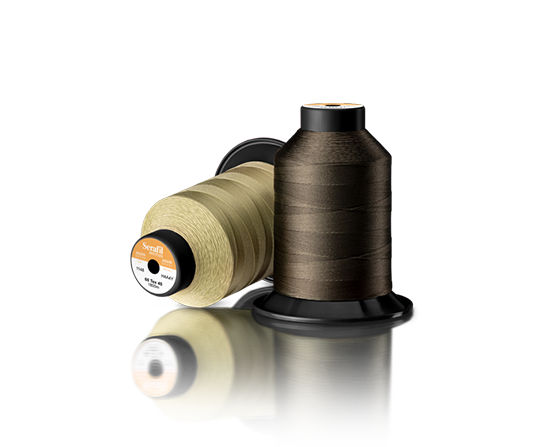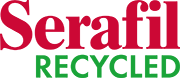 Serafil Recycled
Polyester continuous filament, 100% recycled
AMANN's sustainable thread made from 100% recycled PET bottles
available as GRS certified
pure sustainability combined with outstanding sewing performance
high seam strength
the ideal choice for manufacturing sustainable products
shiny appearance
| | | | | | |
| --- | --- | --- | --- | --- | --- |
| Ticket no. | Tex no. | Make-up | Number of colours | Needle size (in Nm) | Needle size (in No.) |
| 10 | 270 | 300 m FS | 148 | 180-220 | 24-26 |
| 10 | 270 | 1000 m FS | 148 | 180-220 | 24-26 |
| 15 | 210 | 450 m FS | 148 | 150-180 | 23-24 |
| 15 | 210 | 1500 m FS | on request | 150-180 | 23-24 |
| 20 | 135 | 600 m FS | 240 | 120-140 | 19-22 |
| 20 | 135 | 2500 m FS | 240 | 120-140 | 19-22 |
| 30 | 90 | 900 m FS | 240 | 100-130 | 16-21 |
| 30 | 90 | 4000 m FS | 240 | 100-130 | 16-21 |
| 40 | 70 | 1200 m FS | 240 | 90-120 | 14-19 |
| 40 | 70 | 5000 m FS | 240 | 90-120 | 14-19 |
| 60 | 45 | 1800 m FS | 240 | 80-100 | 12-16 |
| 60 | 45 | 5000 m FS | on request | 80-100 | 12-16 |
| 80 | 30 | 2400 m FS | 240 | 70-90 | 10-14 |
| 80 | 30 | 10000 m FS | on request | 70-90 | 10-14 |
You are looking for an eco-friendly water-repellent finish? Serafil Recycled can also be equipped with our eco-friendly, PFC-free, water-repellent WRe-finish on request. Don't hesitate to contact us!
Main application:
Bags
Belts and small leather goods
Shoes
Suitcases
Serafil Recycled is a sustainable sewing yarn made from 100% recycled polyester continuous filament.
Serafil Recycled is AMANN's sustainable sewing thread made from 100% recycled PET bottles. This thread combines pure sustainability with outstanding sewing performance. Serafil Recycled features high seam strength and a shiny appearance.
The recycled sewing thread Serafil Recycled is available as GRS certified. This guarantees complete traceability of the recycled materials used throughout the production chain.
Serafil Recycled is the ideal choice for manufacturing sustainable products, such as sustainable bags, sustainable shoes, sustainable suitcases or sustainable belts and small leather goods.