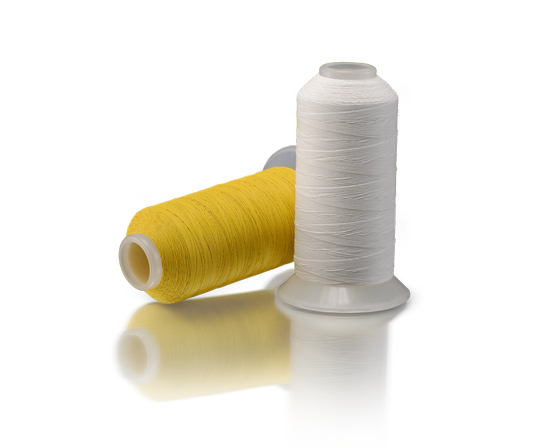 GORE TENARA
ePTFE (expanded polytetrafluorethylene) tape
special sewing thread with excellent UV and weather protection with 15 years warranty!
designed for high speed sewing
also available in transparent colour
will not fade, stain or discolour
resistant to UV radiation in sunlight, mould, mildew, acid rain, cleaning solutions, salt water and industrial pollutants
| | | | | | |
| --- | --- | --- | --- | --- | --- |
| Ticket no. | Tex no. | Make-up | Number of colours | Needle size (in Nm) | Needle size (in No.) |
| HTR | 270 | 1050 m FS | 11 | 110-140 | 18-22 |
| TR | 150 | 1750 m | 11 | 100-120 | 16-19 |
| LTR | 110 | 2100 m | 1 | 90-110 | 14-18 |
Please note: For industrial use only. Not for use in food, drug, cosmetic or medical device manufacturing, processing, or packaging operations.
Main application:
Sun, wind and rain put outdoor textiles under a lot of environmental stress, which is often underestimated. The different climatic influences – UV rays, moisture, acid rain or airborne substances as well as ozone, nitrogen oxide or dirt – show that there is a need for products with technical characteristics that remain unchanged after many years of being exposed to these factors. For this purpose, GORE® TENARA® has been developed, an ePTFE (expanded polytetrafluorethylene) tape.
GORE® TENARA® is a special sewing thread with excellent UV and weather protection with 15 years warranty. The sewing thread has been designed for high speed sewing and is also available in transparent colour. It will not fade, stain or discolour. The special sewing yarn is resistant to UV radiation in sunlight, mould, mildew, acid rain, cleaning solutions, salt water and industrial pollutants.
GORE® TENARA® offers excellent UV light and weather-proofing characteristics as well as a high-tech performance profile against abrasion and tensile stress. Even long exposure to sunlight and mechanical stress do not reduce seam quality. The breaking strength and the visual aspect and colour of the seam remain constant under the hardest environmental conditions.
GORE® TENARA® is a special sewing thread for outdoor textiles. Among others it is used as sewing thread for sails, as sewing thread for tents, as sewing thread for awnings, as sewing threads for boat covers, as sewing thread for tarpaulins, as sewing thread for artificial turf, or as sewing thread for bouncy castles. Besides, the outdoor sewing thread is used for home interior textiles or outdoor home textiles respectively.