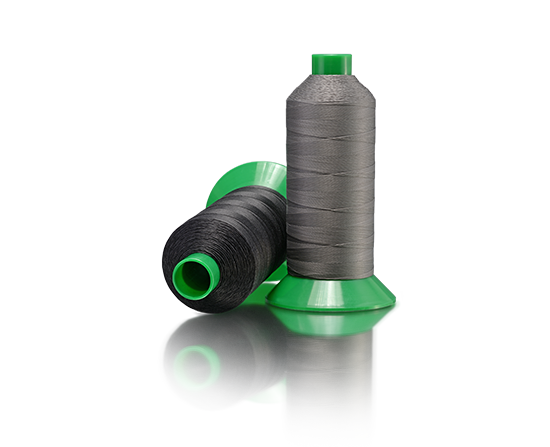 Serabond
Polyester continuous filament, bonded
the high-performance bonded special sewing thread for outdoor applications
extremely durable
resistant to untwisting and therefore suited for multidirectional sewing
outstanding UV resistance due to special dyestuffs
weathering test according to ISO 4892-1 and ISO 4892-2
| | | | | | |
| --- | --- | --- | --- | --- | --- |
| Ticket no. | Tex no. | Make-up | Number of colours | Needle size (in Nm) | Needle size (in No.) |
| 6 | 500 | 1700 m FS | 34 | 240-260 | 27-28 |
| 9 | 350 | 1700 m FS | 34 | 210-240 | 26-27 |
| 10 | 270 | 1400 m FS | 34 | 200-220 | 25-26 |
| 12 | 240 | 1800 m FS | 34 | 180-200 | 24-25 |
| 15 | 210 | 2400 m FS | 34 | 180-190 | 24-25 |
| 18 | 150 | 2600 m FS | 34 | 150-180 | 23-24 |
| 20 | 135 | 1600 m FS | 34 | 130-150 | 21-23 |
| 20 | 135 | 3200 m FS | 34 | 130-150 | 21-23 |
| 25 | 105 | 3000 m FS | 34 | 120-140 | 19-22 |
| 30 | 90 | 2300 m FS | 34 | 110-130 | 18-21 |
| 40 | 70 | 4600 m FS | 34 | 90-120 | 14-19 |
| 60 | 45 | 5000 m FS | 34 | 80-100 | 12-16 |
Main application:
In consequence of extreme weather effects, outdoor textiles have to withstand maximum stress. The different climatic influences – UV rays, moisture, acid rain or airborne substances as well as ozone, nitrogen oxide or dirt – show that there is a need for products with technical characteristics that remain unchanged after many years of being exposed to these factors. To that end, AMANN has developed Serabond, a special sewing thread made from bonded polyester continuous filament.
Serabond is a high-performance bonded special sewing thread for outdoor applications. The outdoor sewing yarn is extremely durable and resistant to untwisting and therefore suited for multidirectional sewing. Due to its special dyestuffs, Serabond features an outstanding UV resistance.
Hohenstein Laboratories have confirmed that Serabond performs excellently in the weathering test according to ISO 4892-1 and ISO 4892-2.
Serabond is a special sewing thread for outdoor textiles. Among others it is used as sewing thread for sails, as sewing thread for tents, as sewing thread for awnings, as sewing threads for boat covers, or as sewing thread for tarpaulins. Moreover, the outdoor sewing thread is used for home interior textiles or outdoor home textiles respectively.