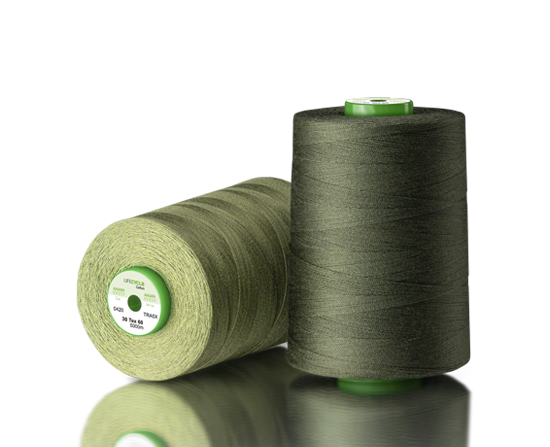 Lifecycle Cotton
Cotton spun, mercerised, 100 % organic
Cradle to Cradle Certified®️ Gold
Cradle to Cradle Certified® Gold
made from extra long-staple mercerised organic cotton
specially developed for the biological cycle
only dyed with compostable dyes
optimal dyeing properties if using as a garment dyeing thread
ideal choice for manufacturing sustainable products
| | | | | | | |
| --- | --- | --- | --- | --- | --- | --- |
| Ticket no. | Embroidery thread | Tex no. | Make-up | Number of colours | Needle size (in Nm) | Needle size (in No.) |
| 18 | - | 105 | 2500 m Co | on request | 120-130 | 19-21 |
| 24 | - | 80 | 5000 m Co | on request | 110-130 | 18-21 |
| 30 | 15 | 60 | 5000 m Co | on request | 100-120 | 16-19 |
| 40 | 30 | 40 | 5000 m Co | on request | 80-100 | 12-16 |
| 50 | 35 | 35 | 5000 m Co | on request | 75-80 | 11-12 |
| 60 | 40 | 30 | 5000 m Co | on request | 70-80 | 10-12 |
| 60 | 40 | 30 | 20000 m Co | on request | 70-80 | 10-12 |
Main application:
Garment dyeing
Ladieswear, menswear
Lifecycle Cotton is an eco-friendly sewing thread made from mercerised, 100% organic cotton spun.
Lifecycle Cotton, the sustainable sewing thread is Cradle to Cradle Certified®️ Gold and made from extra long-staple mercerised cotton. The eco-friendly sewing thread is dyed only with compostable dyes and also offers optimal dyeability when used for garment dyeing. This makes Lifecycle Cotton the ideal choice for producing sustainable products.
Lifecycle Cotton is a Cradle to Cradle Certified®️ Gold sewing thread and is specially manufactured for the biological cycle in which it can be returned. After its use, it becomes compost or other nutrients that are in turn used to make new products. In this way, old products do not become waste, but "nutrients" for a new product.
The environmentally friendly sewing thread Lifecycle Cotton is used in the apparel sector for men's and women's clothing and for garment dyeing. In addition, Lifecycle Cotton can also be used as embroidery thread.