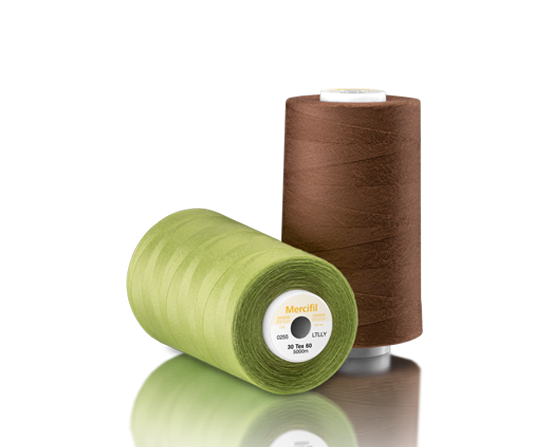 Mercifil
Cotton spun, mercerised
the classic cotton sewing thread
made from long-staple mercerised cotton
ideal sewing performance
| | | | | | | |
| --- | --- | --- | --- | --- | --- | --- |
| Ticket no. | Embroidery thread | Tex no. | Make-up | Number of colours | Needle size (in Nm) | Needle size (in No.) |
| 18 | - | 105 | 2500 m | on request | 120-130 | 19-21 |
| 24 | - | 80 | 5000 m | on request | 110-130 | 18-21 |
| 30 | 15 | 60 | 5000 m | on request | 100-120 | 16-19 |
| 40 | 30 | 40 | 5000 m | on request | 80-100 | 12-16 |
| 50 | 35 | 35 | 5000 m | on request | 70-80 | 10-12 |
| 60 | 40 | 30 | 5000 m | on request | 70-80 | 10-12 |
Main application:
The Mercifil thread is a mercerised cotton fiber sewing thread.
Mercifil is a classic cotton sewing thread, made from extra long-staple mercerised cotton and offers ideal sewing performance.
The sewing thread Mercifil is certified by Hohenstein Institutes according to 94.0.8268 STANDARD 100 by OEKO-TEX®.
Mercifil is used in garments as sewing thread for ladies' and men's clothing. In addition, Mercifil can also be used as embroidery thread.