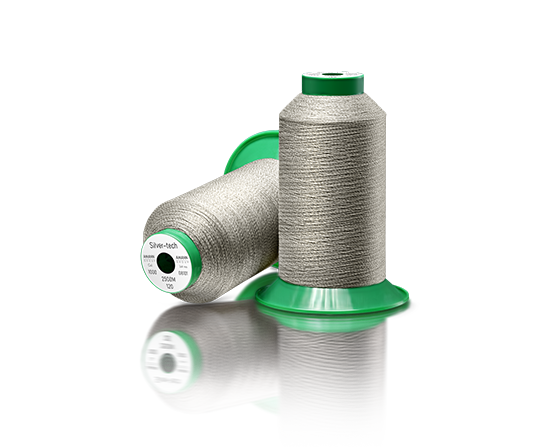 Silver-tech
Silver coated polyamide/polyester hybrid thread
special sewing and embroidery thread with a silver coating
for conductive seams and surfaces
for seam positions that require antimicrobial characteristics
no cell damaging effect in the Cytotoxicity Test according to DIN EN ISO 10993-5 for Silver-tech 120
textile electrodes as sensors and actuators
| | | | | | | | |
| --- | --- | --- | --- | --- | --- | --- | --- |
| Ticket no. | Embroidery thread | Tex no. | Make-up | Number of colours | Needle size (in Nm) | Needle size (in No.) | Resistance |
| 30 | - | 96 | 500 m FS | 1 | 120-130 | 19-21 | < 85 Ω/m |
| 50 | - | 62 | 1500 m FS | 1 | 90-100 | 14-16 | < 150 Ω/m |
| 120 | 40 | 28 | 2500 m FS | 1 | 75-90 | 11-14 | < 530 Ω/m |
Available colour no.: 1000 = raw, silver-grey due to the silver content. Due to the silver content and oxidation processes, the
grey colour will get slightly darker over the time.
Main application:
Silver-tech is a hybrid thread made from silver coated polyamide/polyester. Through its silver content, the smart yarn Silver-tech features highest specific conductivity and corrosion resistance.
Silver-tech is the special sewing and embroidery thread with a silver coating. This smart yarn is suitable for conductive seams and surfaces, textile electrodes can be used as sensors and actuators. Based on its antibacterial properties, Silver-tech is also used for seam positions that require antimicrobial characteristics.
Silver-tech is certified according to 96.0.8810, STANDARD 100 by OEKO-TEX®. There is no cell damaging effect in the Cytotoxicity Test according to DIN EN ISO 10993-5.
Silver-tech is used as smart yarn for smart textiles as well as for medical textiles (medtech).